License Accepted in More Than 29 states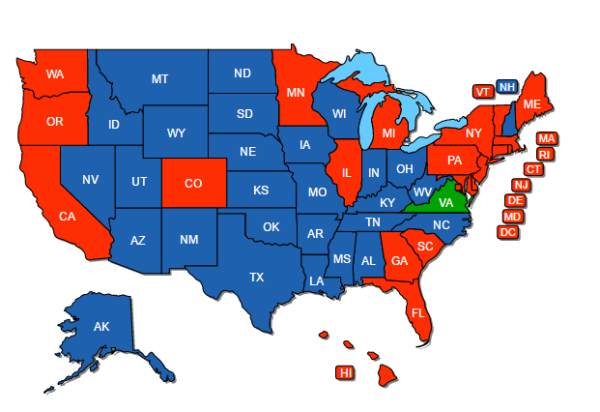 Concealed Handgun Certification Course
$59.99
100% Online

The Virginia Concealed Handgun Permit is recognized in at least 29 States (Shown in Blue)

Passing this course will allow you to apply for your Virginia concealed carry permit

Get your money back if you don't pass the course or don't qualify for the permit
Who should take this course?
1. Anyone wanting to legally carry concealed in at least 29 states.
2. Anyone wanting to protect themselves and their family while traveling.
3. Anyone wanting a multi-state, Virginia non-resident CCW permit that has no state residency requirement.
Course Outline
Rules of Firearm Safety

Assume any gun/firearm is loaded, until it can be properly checked
Define "Safest Possible Direction"
Understand how to properly operate a firearm
Be aware of not only your target, but also your surroundings and beyond your target
Do not place your finger on the trigger until you are ready to shoot at your target
Store your ammunition and gun(s) separately

Components of a Handgun

Barrel
Cylinder
Hammer
Grip
Firearm Safety Device

Components of Ammunition

Case
Bullet
Primer
Propellant

Loading and Unloading a Handgun

Care of and Storage of a Handgun

Keeping gun clean
Store firearm with a Safety Device
Store ammunition separate from the firearm

End of the Course Quiz
Instructor Certifications:
Member I.L.E.E.T.A.
Certified Glock Armorer
NRA Training Counselor
NRA Certified Rifle Instructor
NRA Certified Pistol Instructor
NRA Certified Shotgun Instructor
NRA Certified Chief Range Safety Officer
NRA Certified Personal Protection Instructor
NRA Certified Home Firearm Safety Instructor
BSIS State Certified Baton Training Instructor
NRA Certified "Refuse to be a Victim" Instructor
BSIS State Certified Firearms Training Instructor
California Department of Justice Certified Instructor
NRA Law Enforcement Handgun and Shotgun Instructor
Certified Monadnock Expandable Baton Advanced Instructor
Certified Self-Defense Instructor-McClintock Self Defense
Defensive Tactics Trainer-Public Safety Training Association
Self Defense Instructor – R.A.D. Rape Agression Defense Systems
American Heart Association – BLS First Aid/CPR/AED Instructor
Permit Requirements:
Along with finishing the concealed carry course the following are other requirements necessary to get a permit:
a completed and notarized application
a money order or cashier's check for $100.00
a photograph meeting the designated specifications
a completed fingerprint card (must be obtained by a law enforcement agency)
a photocopy of a government issued ID
and a self-addressed stamped envelope
Since firearm laws are decided at the state level there is no concealed carry firearm permit accepted by all 50 states. This course however, covers all the necessary material required to demonstrate firearm knowledge to obtain a Virginia State resident or non-resident concealed carry permit and is accepted by 29 states.
Concealed Weapons Certification FAQ:
Disclaimer:
This course will cover all material required to demonstrate firearm knowledge and meets the requirements for obtaining the Virginia State resident or non-resident concealed carry permit and includes a certificate of competency with a handgun. It is not a license or permit to carry a concealed weapon in any state. The Virginia State Police application, fees with satisfying requirements are required to be issued a Virginia State resident or non-resident concealed carry permit. The determination as to whether you are authorized to carry a concealed weapon in any City, State or restricted locations is your exclusive responsibility.